HWDI was delighted with the response to its very first Innovations in Science Literacy Award. Despite being such a new organisation, we received 25 applications from across Europe, Africa, Asia, and South America. There was great diversity in the projects, although, unfortunately, several were requests for project sponsorship rather than a report about a completed activity and thus could not be considered for the prize. Of those that dealt with a finished or almost finished enterprise, excellent work in the areas of health, agriculture, education and maker spaces, and portable libraries was described. After the 6 week long adjudication process we had a short list of 7 applications . We are pleased to provide a little information about these very worthwhile activities as they all deserve further support. We encourage all the teams to apply for this year's ISLA which awards an ongoing or completed project in all aspects of Science Literacy.
WINNER OF ISLA 2017
CIMAZA VIROLOGY COMICS
Founder - Dr Susan Nasif Obeid
Susan is a virologist with a particular interest in communicating her knowledge to as many people as possible though the medium of colourful, engaging and funny comic books. She is also an artist with a quirky sense of humour so these books address all the misinformation that currently swirls around the use of vaccines and immunisation in general. She has conducted several small scale tests of the content, clearly showing that her books communicate complex messages without complex words and in an appealing manner to adults as well as children. Her books are being translated into several languages and she is also developing posters and cartoon animations/videos. Here are a couple of pages from her Arabic and English language comic book "The Amazing Adventures of the Viruses".
www.cimaza.be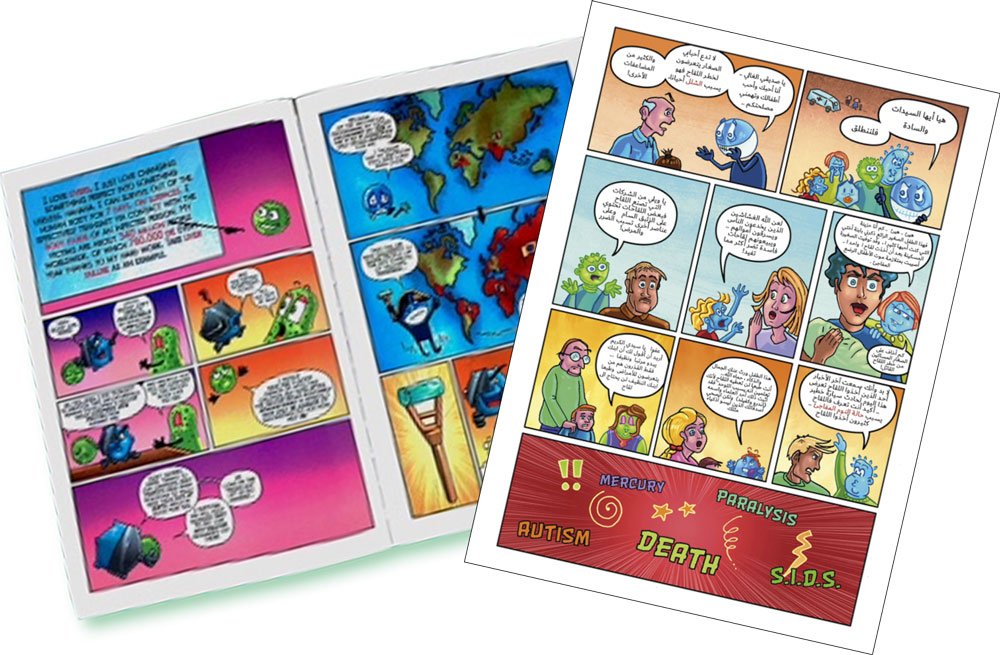 RUNNERS UP (in no particular order)
"Knowledge Outside the City"
Papyrus Stichting (formerly Euroscience Greece), Amsterdam
Hands on scientific experiments for rural teachers and their pupils via mobile laboratories.
http://www.euroscience.gr
Contact Michael Arvanitis -
micar98@yahoo.com
"Menstruation Hygiene"
Gulu Women's Economic Development and Globalisation (GWED-G), Uganda
Overcoming the stigma and ignorance surrounding menstruation by providing classes and the means to make soap and sanitary towels to girls, 11-16 years of age.
https://gwedg.wordpress.com
Contact Leissan Sadykova -
leissan@archruralhealth.org
"Jiggers Outreach Treatment and Sanitation Programme"
Angels of Hope Charity group, Kenya
Door to door counselling and treatment using locally manufactured medicaments to markedly improve the quality of life for those who those who have this parasitic insect in their hands and feet.
www.angelsofhopecharity.org
Contact Oscar Shibila Galavu -
ogalavu.ahcg@gmail.com
"Raspberries for improved economic opportunity"
Association para la Reingenieria Rural Redvital (Association for Rural reengineering Redvital), Colombia
75 peasant families were introduced to raspberry cultivation for a fixed monthly income. Training was given in natural resources, pest management and good farming practices.
Contact William Alberto Ochoa -
asoredvital2000@gmail.com
"Practical Answers Project"
Rural Education and Development (READ Nepal), Kathmandu
Providing practical answers to communities' problems via 22 rural READ libraries and community centres via radio and technical knowledge groups sharing their expertise.
www.readnepal.org
Contact Sanjana Shrestha -
sanjana@readnepal.org
"Project de Prise Psychosociale des Mères Adolescentes et leurs Bébés"
(Psychosocial mental health in adolescent mothers)
UNIPSY et Bien-etre, Cameroun
Over 3 years, more than 1100 teen mothers have received care and training in a variety of maternal mental health issues, though evaluation, provision of healthcare, a free helpline and book-sharing to improve mother-child relationships.
Contact Joel Djatche -
joel1darchi@gmail.com